As a BSc student in Sexual Psychology, hardworking hottie Alana Cruise took her classes more seriously than anyone. Indeed she was so committed to studying erotic fetishes that she joined LA's porn industry! Wanting to see what all the fuss was about, this brilliant MILF left Virginia behind in 2014. Already 33 by then, and preforming under the name Savannah Frye, Porn Valley's directors didn't warm to her right away. But after years serving in the USAF, this gorgeous spinner is a fighter! Working in the XXX trenches as a camgirl, she quietly started gathering a legion of fans. By 2017, it was time to wage another quest for stardom. Emerging anew as Alana Cruise, this petite pornstar was truly a changed woman. Confident, poised, and shining with sex appeal, porn execs around the world did a double take! Now busy shooting back-to-back gigs, Alana Cruise is graciously granting Brazzers the pleasure of her pussy in "Never Interrupt Mommy Time".
Latest updates featuring Alana Cruise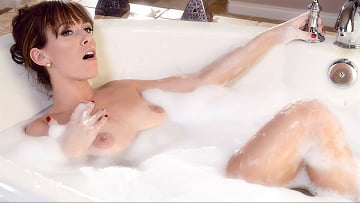 19th February
- Jake is on a mission to hit some serious bro time when he showed up at Alana'ss house. Unfortunately for him, it seems his buddy isn't around and he f
inds himself interrupting Alana's serenity session. Alana takes her R&R very seriously, so she doesn't take too kindly to this twerp ruining her mommy time. She takes it upon herself to teach Jake a serious lesson in respect, starting with him respecting her massive tits by dunking him into the tub. She figures she can get through to him after shoving her pussy in his face, and then getting some anal action on the bathroom floor.
...Read More