"Scandanavian Bimbo Doll" Alicia Amira gained international fame in 2016 after presenting her sexy surgically-enhanced Barbie body to the world. But this randy Brit's dreams of bimbofication started much earlier. As soon as the plastic-promoting sexpot turned 18, she began the modification process that would allow her to eventually quit the nine-to-five slog and take up a pinker, prettier life as a real living doll. And Alicia makes no apologies! This perfect blonde considers surgery a form of art and self-expression, and hopes to encourage other women toward a more plastic lifestyle. While she's not done with her project just yet, Alicia is overjoyed at the attention her J-cup tits and pouty mouth have gotten her, and she's thrilled to realize her dream of becoming a pornstar right here on the Brazzers stage!
Latest updates featuring Alicia Amira
5th July
- Alicia is having the worst possible luck. Her car has broke down on the way to her shoot. Luckily, Marc happens to swing by and save the day. Things o
nly get worse when Alicia finds out the male talent is a no show. Marc reminisces about when he used to act in college, and after Alicia sizes him up she figures he'll do just fine for the part. After sucking him off in the passenger's seat, she just needs to test how good he is at pounding her tight pussy. After firing a massive load all over her face, Alicia is sure she's found the next greatest male talent.
...Read More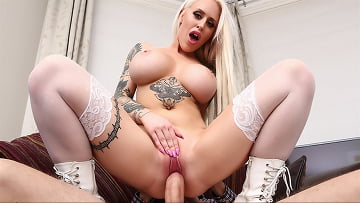 16th December
- Danny and his wife could use some help around the house, so he jumps at the chance to buy a Brazzers Life Assistant Doll. Little does he realize how h
ot and sexual his robot will be! Alicia's got long blonde hair and big fake tits, and every time he asks her to complete a boring chore she suggests they fuck instead. Danny finally gives in and lets her take care of his biggest need: fucking his massive cock. Personalized to give the ultimate pleasure, she knows exactly what he wants. The future is here, and it's horny!
...Read More