Equal parts elegant, adorable, and amorous, Ania Kinski is a wet dream come true. Born in Poland but living throughout Europe, Ania was a dancer before one of her clients asked if she had considered doing porn. The decision to jump from stage to screen was an easy one to make. "I am a girl who loves sex!" she has said, and she has been quite happy to take those personal proclivities to the professional level. Even though her star is on the rise, that doesn't mean she has forgotten who she is. "I am in my films as I am in life," she says, happy to take hard, hung cocks in every hole as long as there is an "atmosphere of class". And classy she remains, with a tall, supermodel body and a sharp tongue that can speak several languages fluently. If that doesn't prove how gifted Ania Kinski is with her mouth, then her incredible scenes will!
Latest updates featuring Ania Kinski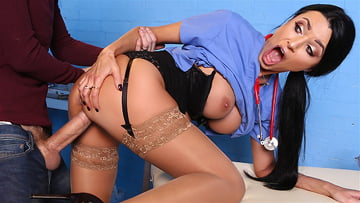 7th January
- Dr. Kinski has a couple suspicions about her patient Danny when he walks through the door. He was supposed to be totally healed months ago, yet he's s
hown up to her office bandaged and in a sling. Dr. Kinski thinks maybe... just maybe... Danny might be exaggerating his symptoms to get more time off work. She decides maybe Danny is due for a bit of bad medicine. It doesn't take long for Danny to be unable to resist Dr. Kinski's dripping wet pussy. He quickly drops the act when he's tempted. Dr. Kinski figures that maybe if he's able to fuck her that hard, maybe it's time for him to head back to work.
...Read More
25th August
- Ania Kinski is suspicious of Zoe Doll, the tutor she hired to help her stepson Jordi with his homework. While Jordi seems to be paying attention, his
grades haven't improved. Little does Ms. Kinski know that Jordi is just interested in seeing Zoe's tits and ass, rather than trying to pass! When Ania catches these two study fuck buddies in the act, she decides to teach Ms. Doll a few things about sucking and fucking her stepson's cock!
...Read More