Ever since her glorious natural tits were discovered through social media, Ashley Adams has been picking up steam on the road to stardom, and all the while getting railed by some of the biggest dicks in the world. Her dramatic curves and spicy teen spirit have fappers and industry big wigs alike crawling on their knees, begging for just a glimpse of her rockin' bod. But despite the onslaught of offers, all Ashley wants to do is get her tight little pussy fucked, and fucked hard! A true submissive slut, this sweet darling wants nothing more than to be spanked, choked, and told what to do. Now that she's a porno princess, Ashley has been on the lookout for a guy to give her the intense pounding she desires, searching high and low for the tough and mean fucking of her dreams. Well it's her lucky day, because there isn't a man alive who would deny her tender twat the balls deep dickin' it deserves!
Latest updates featuring Ashley Adams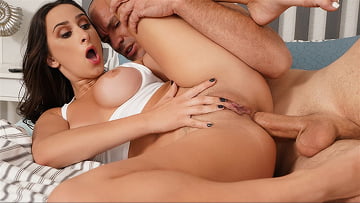 31st May
- When Ashley comes into town for a visit, she's out to find some fresh new cock. But when she's offered a place to stay in her best friend's house, it'
s her BFF's boyfriend Sean who catches Ashley's eye. Sean is unprepared for the wild ways of his house guest. How can he concentrate when Ashley is walking around in panties, or playing with herself while watching porn? Sean tries to reign in his desires - however, the horny Ashley comes into the bedroom to claim her prize. She sneakily teases his cock with her ass and mouth before leading him to her room...
...Read More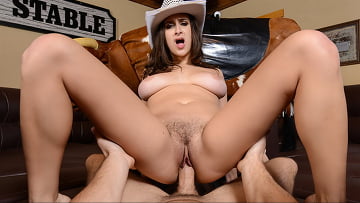 12th March
- Ashley is a wild cowgirl working the mechanical bull, but she'd rather take Robby for a ride. There's nothing quite like getting bucked and fucked.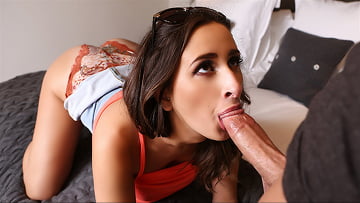 1st September
- Still high off of her latest sexual dalliance, Ashley is a swiping fiend—matching left and right with hot dudes on ZZ Swipe. She's got so many matches
and so many dates booked that it's starting to get a little confusing. There's just so much good dick and so little time. Ashley goes to meet Michael (her date for the night) at a bar and stumbles upon Xander (returning for a second date with her)! Ashley quickly realizes that she double booked her dates for the same time and place! She flits back and forth between the two men, hoping to keep the mix-up a secret and not spoil her chances at two good dicks. Not surprisingly, she gets carried away and starts to blow Michael, only to be discovered by Xander, who is clearly upset. But what is a bad, little ZZ Swipe slut to do?!? Two dicks just means twice the fun filling twice as many holes. What follows is a five-star night for everyone.
...Read More
30th July
- Reeling from the mysterious disappearance of their dear friend, a group of pretty bitches are haunted by cryptic text messages from someone who identi
fies themselves as "D". The bitches decide to lie, cheat and fuck around their small town to figure out D's true identity. The only problem is everyone's considered a sex-spect and the bitches have their work cut out for them.
...Read More
23rd July
- Erik Everhard wants nothing to do with his stepdaughter, Ashley Adams, because she's a dirty slut who loves to fuck. But his wife strongly encourages
him to get to know his new stepdaughter. While spending some quality fucking time together, the two realize they have more in common than they initially thought!
...Read More