Darcia Lee is a Hungarian honey with a tight, thin waist, and a firm ass that will knock you off your feet! Lee has a glowing olive skin tone that makes you want to run your finger tips over every inch of her body, and rocks a pair of big, natural tits so exquisite you can't help but stare. It's a true delight to watch her get down because Ms. Lee is as flexible as a rubber band, able to stretch her legs well past her head and twist her heavenly body any which way you want to take her. If you look up the dictionary definition of the word seductive, you'll see a big picture of Darcia's eyes as she rolls them back in the throes of orgasm, because the babely Ms. Lee's pure, raw sex appeal is sure to get you off over and over again!
Latest updates featuring Darcia Lee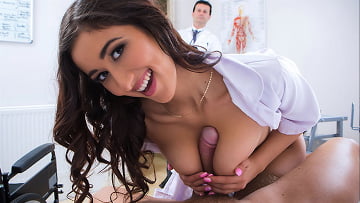 14th June
- Nurse Lee is no ordinary nurse. The hospital she works for wants the very best for their patients, including Mr. Rose. Before his big operation Nurse
Lee makes sure he's happy and relaxed by treating him with a nice blowjob and a tight, wet fuck. That's the best medicine on Earth!
...Read More