Didn't Elena Koshka's mama tell her not to play with food? Filling up on fruit is one way to keep a pussy juicy, but this Russian-American camgirl gets kinky for edible insertions! These sweet dildos were Elena's favorite on-camera treat, before porn started evolving her tastes in 2016. Needless to say, this 6-foot tall goddess stands out in the LA crowd! Maybe it's from growing up in Portland, or reading enough novels to fill a small library, but Elena Koshka is truly free-spirited. She's a natural nymphomaniac on-set, who dazzles with raw sexual energy--and you won't be able to turn away! But when the spotlight is switched off, this Slavic sex kitten returns to being a shy, bookish nerd. Her whimsical life consists of painting, visiting vegan cafés, and sunbathing in her garden. You're invited to bask under the glow of Elena Koshka's turquoise eyes tonight in "Trillium's Lesbian Fantasy".
Latest updates featuring Elena Koshka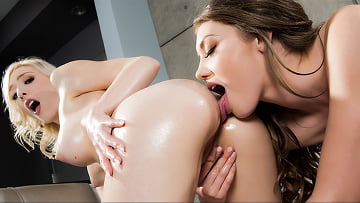 4th May
- Trillium has always dated guys, but deep down she really wants to fuck other girls. Tonight she lets her fantasies take over and imagines herself betw
een the legs of a hot, oiled up babe named Elena...
...Read More