When it comes to having a good time, no one gets wilder than Jessie Wylde! This party babe grew up in the Sunshine State, taking in that glorious Florida sun and flaunting her juicy booty to wandering beachgoers. Rocking a gorgeous smile, perfect natural tits, and eyes so blue you could dive right into them, attention was never something the blonde hottie had to chase. Despite her adorable disposition, Jessie Wylde loves sex to be as rough as she is wild! "I really love being choked, almost like I can't breath," says the kinky cutie, who admits she cums hardest when surrendering to an overpowering grip. Once she gets into a passionate frenzy, nothing slows Jessie down until she satisfies her pussy's craving for cock. Luckily she brought that unstoppable sex drive to Brazzers in 2017, beginning a new chapter in her life, and showing off her thick ass and deepthroat know-how to an audience deserving of her devilish charm.
Latest updates featuring Jessie Wylde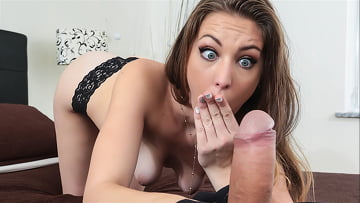 27th November
- Jessie is getting ready for her annual house party when she decides to slip her remote control vibrator into her pussy. Her private time is interrupte
d when her husband tells her the catering team has arrived. Jessie sends her husband to go relax as she greets the wait staff. Jessie hands the waiters the remote to her vibrator and explains that they'll be in charge of pleasuring her all night. The waiters look at each other surprised and Jessie giggles as she heads into the the living room to greet her guests. Jessie is in the middle of a conversation when the waiters remotely activate her vibrator. Jessie writhes around in pleasure as her guests watch confused. The waiters take turns controlling the vibrator and Jessie can barely contain her pleasure. Jessie's husband looks at her concerned and she excuses herself to go lie down. On her way to the bedroom, Jessie passes by the kitchen and signals for a waiter to follow her. She leads him to the bedroom to where he helps her release her pent up passion.
...Read More