Small town Jersey girl turned Alt Porn Princess Joanna Angel is the bad girl everyone wants to fuck! Born to a vehemently religious family, Joanna followed suit - up until the day she discovered punk rock! She started getting inked across her smoking hot body, pierced her nipples, and vowed never to live a boring life again. Joanna's college years were uneventful, except for the fact that in 2002 she took some pictures with a roommate, put them up on the internet, and started the first punk rock porn site! What started as an experiment grew into an Alt Porn empire, thrusting the badass babe into the world of adult entertainment with a fervor! When she isn't getting her tight pussy filled, or her perfect tits sucked, this juicy booty beauty is writing and directing! With hundreds of kinky scenes under her belt, she's bigger than life!
Latest updates featuring Joanna Angel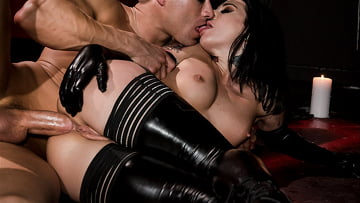 7th May
- Joanna worships at the temple of dick. The badass babe is willing to do all kinds of things to get her fill, including trickling hot wax all over her
body before getting tied up by Xander, a hooded figure who knows exactly what she's been praying for – a big, thick dick in her delicious, juicy ass.
...Read More