Of all the anal spinners at Brazzers HQ, Asian sensation Kat Dior was the one your momma warned you about! Although her face is sweeter than a gum drop, Kat just so happens to be one of the most depraved cum-sluts of all time! A former medical worker who told her fans she was going to "gradually ease into porn," it wasn't long before Kat said "fuck that" and started getting blow-banged in some of the raunchiest gangbangs moral decency can allow. A party chick who loves dancing, video games, and eating pizza for breakfast, Kat is one badass babe who doesn't give a hoot about what anybody thinks of her! When you combine her lust for hair-pulling throat-gagging action, with her super-tight 100 lbs. frame, squirting Asian pussy, and addiction to double-penetration, and you'll wind up with Kat Dior: the nasty little nympho who loves being called a dirty whore!
Latest updates featuring Kat Dior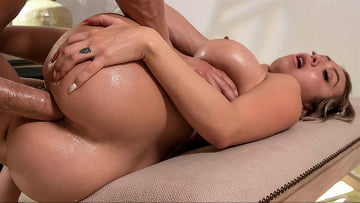 18th December
- Wearing nothing but nude nylons, Kat Dior shows off her big, beautiful ass before getting all of her tight little holes filled by Xander Corvus.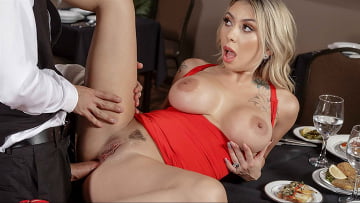 7th October
- Kat Dior is trying to introduce her skeptical husband to tapas, but unfortunately for them, their bumbling waiter, Jordi, is completely hapless. Even
worse, Kat's perpetually busy husband is glued to his phone despite them going out for a rare date night. After a series of serving misadventures, a dish doesn't sit well with Kat's husband, prompting an extended trip to the bathroom. This allows Jordi to bring Kat a special platter that nearly makes her jump out of her chair. But when Kat takes an extended look at Jordi's cock, she sees an opportunity to satisfy her insatiable appetite for anal sex!
...Read More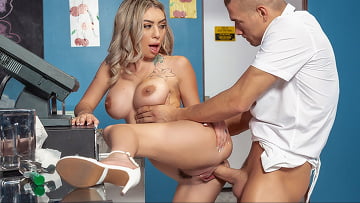 10th August
- At the end of another long day at the ice cream parlor, in walks Kat Dior in a sexy white dress. Xander takes one look at the blonde babe and finds hi
mself fascinated by her big boobs that look like sweet scoops of vanilla ice cream. Kat's in the mood for something really creamy, so Xander dishes her up a cone, but he gets a bit carried away with the chocolate sauce and squirts it all over her tits! He hurries to mop it up, in the process making an even bigger mess, so Kat strips off her dress, then gives Xander a taste of the chocolate sauce when she drizzles it all over her ass and makes him lick it off. This nympho wants to enjoy some of that Corvus Cream, so she gets on her knees to suck his cock and then bends over for a doggystyle fuck before telling him she wants his big cock in her ass. When Xander cums in her mouth Kat laps up every drop of the tasty treat!
...Read More
10th January
- Kat Dior has stolen a precious gem from a jeweler and is apprehended by the store's security guard, Ramon. After searching through Kat's purse but una
ble to find the stolen jewel, the store owner demands that the security guard pat down and strip search Ms. Dior. The jewel turns up alright, as Ramon pulls out the butt plug and can't help but want to fuck Kat in the ass—to her pleasure of course!
...Read More
9th December
- Kat Dior is a big fan of penetration, so whenever she has the opportunity to cram two dicks inside her tight little body you know she'll take it. Ente
r Bill Bailey and Levi Cash, two corn-fed fuck machines who know an anal-hungry whore when they see one. Together these two fellas are going to give Kat the double penetration of a lifetime (that's one cock in the ass and one cock in the vagina to all you newbies out there.) Buckle up, it's going to be one slippery ride!
...Read More