If you're turned on by innocent looking redheads with braces, Krystal Orchid is the nympho for you. Still in college, Krystal is an all-natural coed babe that calls herself the "faerie porn princess" who films x-rated scenes to explore her budding sexuality. When she isn't playing with her tight pussy in one of her many webcam shows or showing off her pink nipples on her exclusive social media accounts, Krystal is pursuing her love for nerdy adventures. Whether that's studying or cosplaying a sexual fantasy, Krystal works hard, and plays harder. Delicate like the flower she took as a namesake and rocking a naughty streak that could extend out into space, when you see Krystal's adorable face and flaming red hair you'll finally understand why nerdy girls make the best lays.
Latest updates featuring Krystal Orchid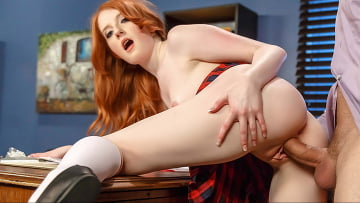 5th August
- Krystal is displeased with her grade on the midterm exam and approaches Professor Parker to have it changed. In his office, Krystal uses her physical
assets to make her argument for her and attempts to sway the professor's opinion. Before things can get intimate, they are interrupted by his secretary, causing Krystal to hide under the desk to avoid being seen. However, while under the desk, she immediately seizes the opportunity to be naughty and give her professor a juicy blowjob. When the secretary leaves, Krystal is free to pursue all the extra credit Preston can give her.
...Read More