Sexy, busty, and sinfully sweet, Lilith Lust has come to lead you into temptation. With her big fake tits, huge beautiful eyes, and jaw-dropping hourglass figure, this buxom beauty is like a pinup come to life. Her deceptively sweet smile and luscious red hair makes her seem like the kind of woman you could bring home to meet your folks, but her incredible big fake tits and gorgeous thick meaty ass tell an entirely different story! Since she made her first tentative steps into the adult industry, Lilith Lust has been making heads turn and pants tighten with her voluptuous build and mad cock-sucking skills. Now, with her career well and truly underway, it's impossible to deny that this big-titted babe is on her way to becoming a true star! So whether you like her for her pretty face, juicy booty, or big round tits, one thing we can all agree on is that Lilith Lust more than earns her name!
Latest updates featuring Lilith Lust
Lord Deen owns the most successful brothel in Slut's Landing, and it's all because his whores are the best of the best. Today, he's training two of his bustiest new ladies, Lilith Lust the fiery redhead and Sienna Day the blonde bombshell, on how to please a man. They use everything they've learned and every part of their beautiful bodies, from their pretty mouths and their big beautiful tits to their wet little pink pussies, to please Lord Deen and show him once and for all that they can be the finest whores in seven kingdoms!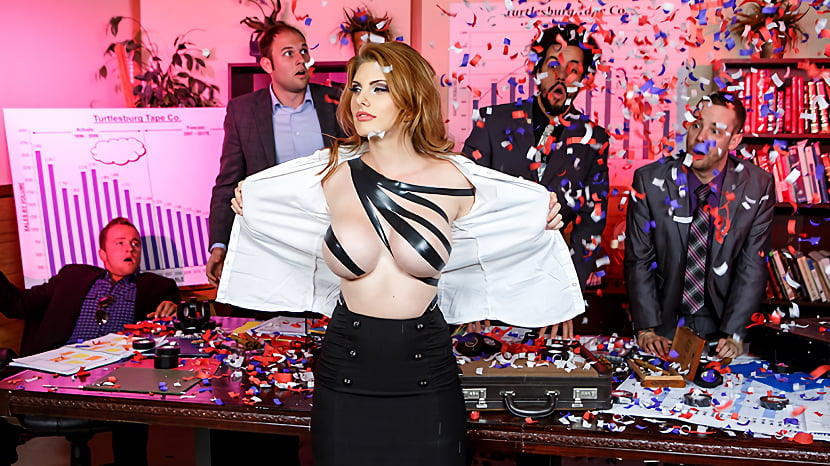 The Turtlesburg tape company has been losing customers for years now, and if things don't turn around soon, they just might have to close their doors for good. The marketing execs are all full of the same old boring ideas, but luckily for Mr. Turtlesburg, one of the ladies from R&D, a busty babe named Lilith Lust, has got the fresh ideas it will take to turn things around for the struggling company. Lilith knows that sex sells, and to get her point across, she drops her top to reveal her big tits covered in nothing but a little bit of Turtlesburg tape! Mr. Turtlesburg decides to test the theory out for himself, and starts eating out her wet pussy until it's wet enough for him to fuck!