Spain's Lucia Fernandez is so passionate about games, even her name is a play on words. Drop a few letters and this curvy blonde becomes "LuciFer"--her devilish alter ego! Because even more than cheeky puns, what Lucia loves the most is being a dominatrix in Europe's BDSM scene. That's where the real magic happens! Blessed by huge all naturals, Miss Fernandez transforms into a tattooed, leather goddess with a whip in hand. Giving lovers a delicious taste of pain, she sweetly bends them to her every whim and filthy fancy. Despite only debuting in 2016, American porn directors soon heard whispers of Lucia's wild reputation. Indeed, her bondage scenes are legendary across the pond! Brazzers got a hold of the Spanish sexpot first, and she graciously accepted our pleas to star in "Big Tits Thesis". So, sit back and let Lucia Fernandez rock your little world off its axis.
Latest updates featuring Lucia Fernandez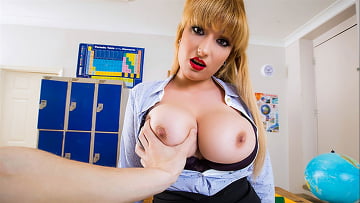 4th May
- Professor Lucia has been waiting for you to present your thesis paper. You wouldn't want to keep this busty babe waiting, would you? Especially when s
he's been craving her student's cock all day!
...Read More