Growing up, Michelle Thorne dreamed of a show-biz career that would make her a household name all throughout the United Kingdom. But while teenage Michelle imagined herself topping the charts for her singing voice, fate decided Michelle would become a living legend for her incredible porn performances! After taking a few nude glamor shots for a modeling agency, Michelle realized how much fun she could have girl/girl. And now, you can scarcely find a porn-lover in Britain who hasn't swooned over Michelle's lovely huge tits, or had a wank watching her catch a dick. What does Michelle love best about her life in porn? As she puts it, "Meeting great people, getting to show off and going to great places, fantastic parties, nice hotels, all that sort of stuff." As well, Michelle's become an outspoken advocate for pornography in the media, and laid out her views on the power of women's sexuality. It's a thrill to hear this British Milf has set her sights on conquering the United States, starting with her wickedly hot Brazzers debut!
Latest updates featuring Michelle Thorne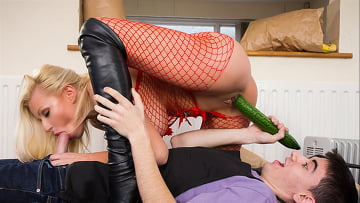 18th April
- Michelle has finished her grocery shopping and one of the store's employees kindly offers to help carry her bags to her car. Jordi is expecting some m
oney in exchange for his kindness, only to his surprise this horny MILF wants him to give her the tip—of his dick that is! Will Michelle be able to seduce Jordi into coming home with her, or does this sneaky slut need to bag "The Scoundrel"?
...Read More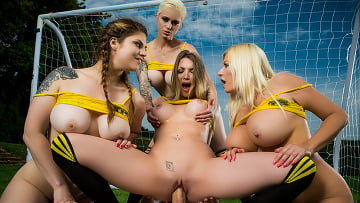 9th July
- Team Tits isn't going down without a fight! Lucia, Michelle, Mila and Tamara have the racks to change the game of football forever.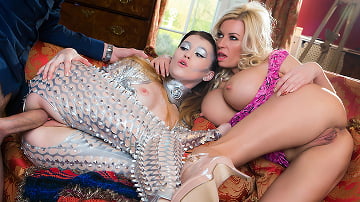 9th June
- Michelle Thorne is concerned about her stepson, Danny D, who is clearly suffering from his lack of lady love. Michelle decides to build a sex robot fo
r Danny and creates Misha Cross, a beautiful babe willing to please Mr. D and cure him of his sexual frustration! While only a prototype, Ms. Thorne steps in and shows slutty Misha some hands on learning—like how to fuck for real!
...Read More
17th May
- Michelle Thorne is one horny and bored teacher who just wants to get fucked. Unluckily for her, student Jordi is too focused on passing his English le
ssons to notice how this busty professor is hungry for his cock! Ms. Thorne tries her best to take Jordi's focus off the test paper and onto her tits, but she'll soon get a lesson of her own as she rides this Spanish stallion until she can't stop cumming--and moaning--for more!
...Read More
2nd May
- Danny is on his way over to Michelle's house to fuck her brains out, but discovers her husband is working from home that day. Before leaving he interc
epts a mail courier on Michelle's front step and signs for a parcel full of mysterious liquid. After downing the liquid he soon discovers he's invisible! Looks like he won't have any trouble fucking Michelle right in front of her husband.
...Read More