"100% CHANCE OF SHOWERS!" warns Sally Squirt's online profile, and if she's in a scene it's a good chance a rain is coming. Rolling in from Miami like some small but powerful hurricane, this tiny Latina teen is a perfect storm: hot, tight, and forever down to fuck, with deliciously messy results. But squirting is just one of Sally's many talents. She can make the biggest of big dicks magically disappear into her little body, and she cum on command. But did you also know that she is straight fire with a hula-hoop? You do now! Of course, the way Sally gyrates her hips is already legendary stuff in the game, because this tiny dancer loves rough, hard sex from a strong and dominant partner. And while she enjoys getting her pussy, mind, and boundaries stretched, this is one girl who still keeps it tight, whether in the bedroom or on social media. That's just Sally Squirt for you: everywhere she goes, and in everything she does, this girl makes it rain!
Latest updates featuring Sally Squirt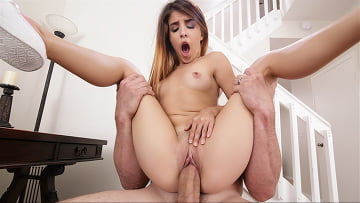 2nd July
- JMac wants nothing to do with his prudish stepdaughter, Sally. So when his new wife demands that he spend time getting to know Sally, JMac tells her t
o politely fuck off while he watches porn all day. To his surprise, Sally follows him into the study where they watch the sexy video together and eventually the pair discover they have more in common than they thought — they both love to fuck!
...Read More