To shoot the best porn scenes, you need to have a really sexy body and a nympho sex drive like Sara Jaymes. This little blonde porn star has a tight ass and perky tits. Her favorite position is when a strong guy picks her up and fucks her standing, even better when he's pressing her up against a wall. To keep that petite body tight she likes to take off on long runs along the beach, working up a sweat and then cooling off with a dip in the salt ocean. Sara's horny for lady-love too, especially from chicks who take the lead and make her feel like she has no choice but to surrender to the intensity of the moment. Check out her Hot and Mean scene to see how much Sara enjoys submitting to all of Kelly Divine's horny wishes.
Latest updates featuring Sara Jaymes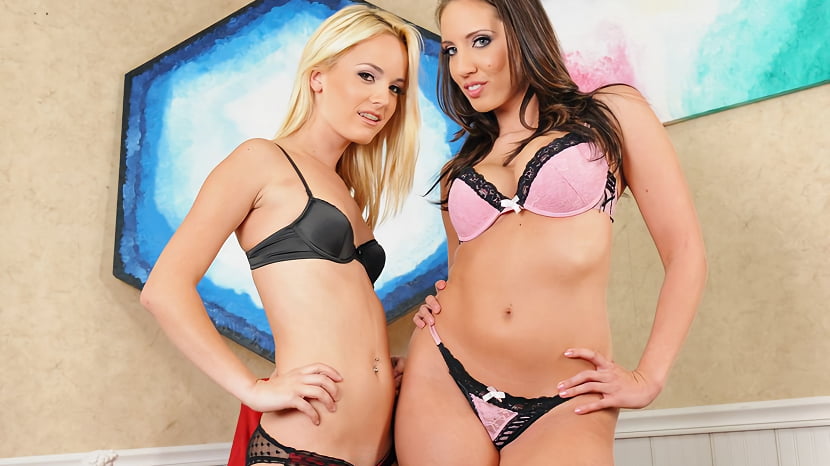 Sara has always been an outsider, so she was very happy to find some new friends who have the same interests as her. They took her out to fancy restaurants, went to art galleries and bought her clothes. After months of being part of this exclusive world, the ladies find out Sara isn't a lesbian. Feeling misled, the lesbians decide to take what they want from Sara.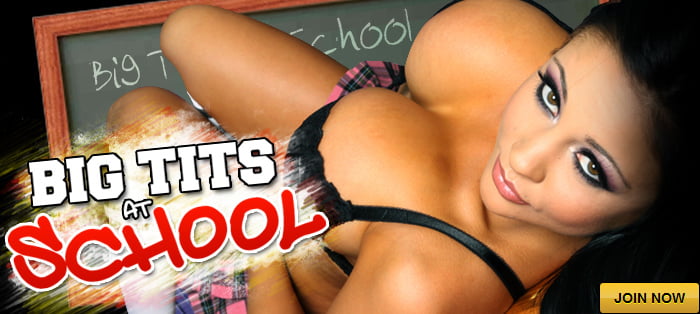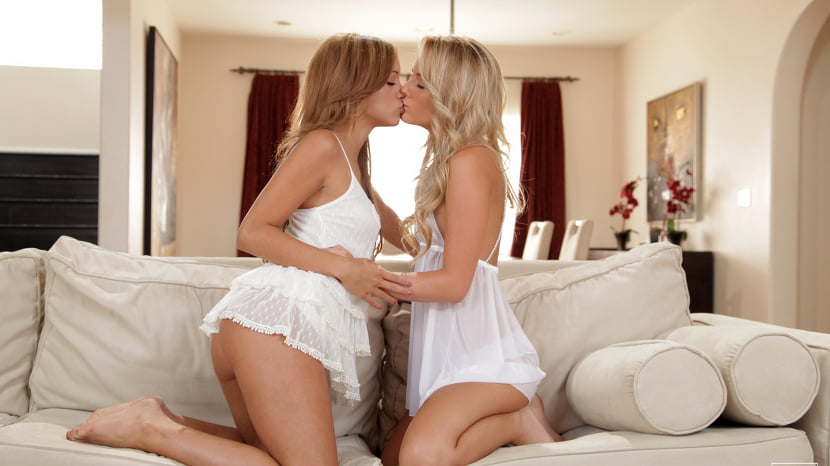 Blonde beauty Sara Jaymes looks on as sultry Latina Melanie Rios joins her dressed in a sexy white dress that matches the one Sara wears. The girls pull each other close, kissing gently as their soft tongues touch.Melanie guides Sara down onto the couch and peels her dress and panties off. Dropping to her belly between Sara's legs, Melanie plants intimate kisses in her lover's soft shaved pussy. Tantalized by the magic Melanie is working with her tongue, Sara arches her back and exhales a low moan of pleasureAching for more, Melanie pulls her negligee over her head while Sara caresses her smooth tan skin and helps her out of her white thong. Fully in control now, Sara urges Melanie to lie back and enjoy the moment as she laps her tongue across Melanie's wet slit.The two lovers share an open mouthed kiss, tasting themselves on each other's tongues. When Melanie turns around and begs Sara to help her cum, Sara teases her by running the tip of a vibrator across her horny pussy. She removes the toy long enough to lick her lover's juices from the plastic before pressing it deep into Melanie's slick hole.Overcome by passion, Melanie turns onto her back so she can watch as Sara fucks her with the dildo. When Sara leans forward to suck her lover's sensitive clitoris in time with her thrusts, Melanie can no longer hold back the orgasm that roars through her.Sated, Melanie joins Sara in a loving kiss and then turns her attention to the toy, licking it clean of her own sweet juices.
These two college co-eds passed on a curious video to us here at BANGBROS. We were curious so we popped it in and what a awesome surprise that awaited us. These two best freinds were kissing and eating each other out. It was Great! They even 69'd for the camera and we got to see two very close friends digging each others wet twats. The best part about it is that they did it for BANGBROS...they also did it for you.