Scotland is known for many things: perpetual wetness, intoxicating concoctions, and of course, an accommodating populace that will bend over backwards to make you feel welcome. And at least in the world of porn, no person stands as a better living example of Scotland's allure quite like its finest export, superstar Skyler McKay! A proud Scot with an arrestingly exotic look, the only thing this ebony-haired, olive-skinned seductress loves more than a hard cock is two hard cocks. Or better yet, three! As long as she's getting a few in every hole, Skyler is a happy gal. That lust for action has led this Celtic stunner further afield than the boundaries of Bonnie Scotland. And while she still carries the banner of her homeland high, she now travels the world to make the dreams of her filthy little fans come true. A self-described "lingerie junkie," Skyler also likes playing dress-up, but only if what she's wearing is ripped off in passionate fashion. Blessed with a beautiful bronze booty and big round tits, Skyler loves to bounce, whether it's at the gym, at the club, or just in sexy little videos for her fans online. Just like the lush and curvacious environs of her homeland, Skyler loves showing off the raw, naked beauty of her incredible curves... almost as much as you will love drinking them in!
Latest updates featuring Skyler Mckay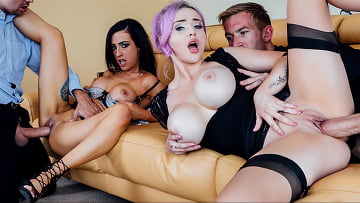 5th July
- Skyler Mckay and Danny D have been invited for dinner by his ex-wife, Jasmine James. Skyler is worried that this new couple is up to something. Little
does Skyler and Danny know that Jasmine's new husband (Keiran Lee) and her plan on having a swinger's night! Will Danny succumb to the temptress that is his sexy busty ex-wife? Will Skyler be able to resist sucking and fucking a new, big cock? Will either marriage ever be the same again?
...Read More