In the world of fetish, Zara DuRose commands a stark presence... and not just because she enjoys a very similar look to Lady Sansa from Game of Thrones. Born in Hertfordshire in the UK, Zara's ravishing redheaded beauty is classic and statuesque. And yet, she is also a striking vision of pale perversion, thanks to her prevailing and most delicious kink. When bound head-to-toe in taut black latex, Zara is transformed into a living fantasy of pure domination. The BDSM lifestyle is something that has always motivated the young British bombshell, and even drove her husband and her to enter porn together after years of amateur filming and shared curiosities. Now, this natural redhead reigns supreme as a fetish queen, garnering high praise and accolades for her acting, directing, and her fetish fashion designs. Her personal website, ZaraDuRose.com, even won a Best Fetish Website at the UKAP Awards! When she isn't whipping her subs into shape, Zara can be found cranking engines of a more literal variety, working on and rebuilding cars like her beloved 4litre V8 TVR Griffith. Of course, no matter what she is doing, Zara DuRose is a decadent domme who is always in the driver's seat
Latest updates featuring Zara DuRose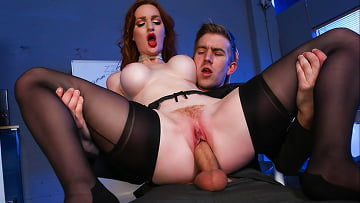 13th March
- Zara is on a mission to wage corporate warfare, and her first step is bringing down Danny's company. Little does she know, Danny has been waiting all
evening for her arrival and she has fallen directly into his trap. Zara is a bit confused since she has the exact documents she came for – and is starting to think Danny might not be the mastermind he claims to be. It doesn't help that Danny is easily distracted by Zara's assets. So much so that he has he flipped over on his office table with his cock down her throat. But is it all part of his plan? Or hers?
...Read More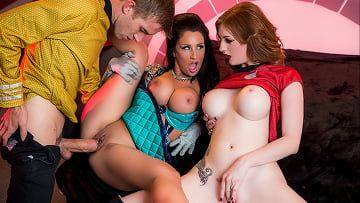 20th July
- Captain D and fellow Starfleet officer Zara DuRose sneak off to have a romp when they are interrupted by the appearance of a sexy space alien Brooklyn
Blue seeking to repopulate her planet. Together, Captain D and Zara educate Brooklyn on the finer points of human copulation, all for the sake of interplanetary relations.
...Read More