Bleached blonde spinner Emma Hix is as adventurous as she is small. Born in Vancouver, British Columbia, she grew up exploring nearby forests, but dreaming of a more adventurous life. Emma says she doesn't remember the exact moment she decided to do porn, she just hopped into her car and drove all the way down to California! Year-long summers meant more time spent on beaches, which introduced the tiny 18 year old hottie to the fun of exhibitionism. Once she started she couldn't stop, even going so far as to have her boyfriend slide his cock into her wet pussy at a crowded concert! The rush was enough to propel the Canadian native to quit her waitressing job and seek out representation in adult entertainment. While she loves the attention she gets from showing off her tight ass and small tits on camera, Emma admits she's just in it for the sex! That enthusiasm and a keen sense of adventure has this blonde babe coming back more hot fun!
Latest updates featuring Emma Hix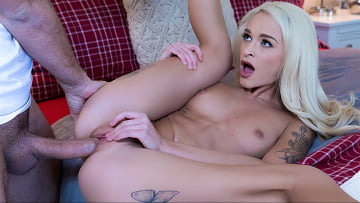 23rd January
- Everything was going just great for Keiran since his new girlfriend moved in. There just one thing he forgot - he told his girlfriend her daughter Emm
a could stay with them while she gets back on he feet. The only problem it seems like he can't get seem to avoid her in his own house. His wife tells him that it might just be a blessing in disguise while she's around. Keiran finally finds out just how much of a blessing after Emma can't quite satisfy herself playing with her pussy. So, naturally she decides to sneak into Keiran's room to try and get a piece of that big dick for herself.
...Read More