Mikayla Hendrix has a beguiling combination of petite delicacy and lush eroticism that immediately captures one's attention. Although she is a tiny spinner with itty bitty A Cup titties, her nipples are surprisingly dark, thick, and large. Obviously this makes it difficult to not want to suck, tease and taste. Her little waist and tiny hips taper down to her thick, meaty labia and enormous clithood, a puffy, exotic treat of the sort that make men salivate to see. Getting off with other ladies is an adventure that delights her, and has always been a thrill for her, ever since she began hiding Playboy mags under her mattress early on.
Latest updates featuring Mikayla Hendrix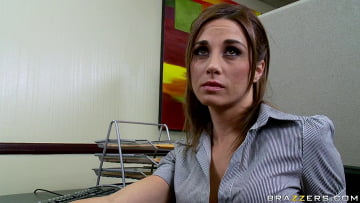 30th March
- Lexi, the office security guard, is on the lookout for someone who's been stealing office supplies. She runs into Mikayla who's working late. Lexi's g
ot a thing for Mikayla and tries to ask her out for dinner, but Mikayla's insensitively laughs at Lexi and shoots her down. Lexi goes back to her desk to think about what to say next, then comes back to give Mikayla a piece of her mind, only to find Mikayla slipping a laptop in her bag! Looks like this thief needs a full body search!
...Read More