Ayda Swinger is truly blessed, but that's not to say this Hungarian honey has led a charmed life. Ayda has had to work hard to attain the level of success she enjoys, dancing her way through school to pay the bills and sacrificing countless hours at the gym to keep her tantalizing figure tight. But what she has been blessed with are the magnificent, 100% natural tits that are turning heads around the world. Originally getting her start as a camgirl, Ayda's bountiful breasts quickly became a talking point on her channels and, along with her ample ass, made her an instant draw for European porn producers. Now, her gorgeous tits have secured Ayda an enviable place as one of Budapest's most promising new talents. Indeed, while Ayda Swinger may be new to the porn game, just like her tits, this natural is bound to be a very big deal!
Latest updates featuring Ayda Swinger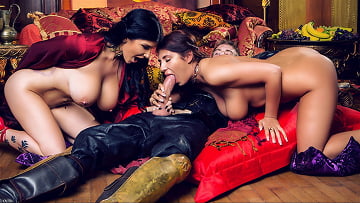 13th August
- After being saved from the bowels of King's Cliff dungeons, The Red Strumpet attempts to hide John Doe at her brothel. When Jeromay comes searching, T
he Red Strumpet distracts him with a her own ample bosom. John Doe seizes the opportunity for a final showdown.
...Read More
19th September
- Welcome back to History 101 at Brazzers University! Today the class learns about Ancient Rome, where according to scholars, Caesar was seen as a livin
g god. That sort of power sounds pretty good to Jordi, who never gets the time of day from pretty girls like Ayda Swinger. After yet another rejection, Jordi imagines himself in the regal toga of Julius Caesar, with Ayda devoted to his every whim, no matter how depraved.
...Read More