At first glance Bobbi Dylan is just a shy computer nerd who's obsessed with online gaming, but look a little deeper and you'll find a sex-crazed cum slut with some pretty nasty fetishes. Being sexual has always come naturally to Bobbi, so it only made sense for her to end up in adult entertainment. But before she could show off that tight pussy on camera, Miss Dylan would have to learn a thing or two about herself. She started out as a mainstream model, but quickly realized the catalog look would hinder her edgy personal style. Bobbi has a thing for piercings, cool hair, and tattoos, so she fit right in with the hardcore sex-kittens of porn. It turns out she also loves BDSM, anal, and ganbangs, making her perfectly suited to a life of XXX mayhem.
Latest updates featuring Bobbi Dylan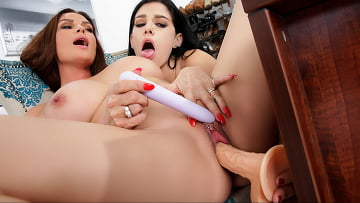 10th October
- Bobbi Dylan hasn't been meeting her sales quotas, so she is called into her boss' office to explain. Not willing to accept Bobbi's excuses, Diamond te
aches her employee that the best way to get ahead is to fuck your boss.
...Read More