Cheerful and beautiful Mandy haze has an undeniable rocking body with a perfect pair of perky tits to top it all off. Her wild dark hair and soft alluring dark eyes balance the playful wickedness of her teasing smile. This college girl wants to get ahead and has learned how to work it. She loves to tease one on one after school, and has been looking for good jobs to pay her way. As a result, she is a full time Nanny during the day, fulfilling some lucky bastards babysitter fantasy every time she shows up for work. This hot little number is looking for a date that can cook in order to spoil her with nice dinner, because this former Mofos babe is far too busy working her fine ass to do it herself!
Latest updates featuring Mandy Haze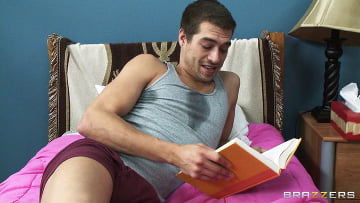 29th January
- Due to some sneaky pranksters at ZZ University, collegiate Mandy has had to move in to Xander's dorm room for a few days. She's damn fine, but she's a
lso the dean's daughter, and if Xander wants to keep his scholarship, he'd better keep his hands off her. If only she'd stop doing that yoga, and walking around with her tits out...
...Read More
26th December
- Johnny just can't stop visiting the cute salesgirl at the hardware store. He may be forgetful, but he's also got it bad for Mandy and her massive titt
ies. When he finally gets a chance to go to the back room with her, you can best your ass Johnny will try to rip that plaid right off her chest!
...Read More