Ebony cutie Cecilia Lion is as adorable as she is fierce, and every bit as ambitious! Though she was born in Phoenix, Arizona, this afro-clad hottie moved around quite a bit across the desert state. Eventually settling down in Florida, Cecilia decided to call the Sunshine State home. A brief journey through college left her short changed, and a close friend planted seeds of intrigue when she alluded to making rent money through camming. Up for anything and low on cash, Cecilia figured she masturbates anyway - so why not get paid for doing something she loves! Keeping her eye on a degree in marine biology, the self-labelled hippie quickly stepped her game up and landed work in adult entertainment! With a tight body and a seemingly endless supply of enthusiasm, Cecilia Lion is ready to let the world hear her roar!
Latest updates featuring Cecilia Lion
There's nothing worse than an on-set spat between co-stars, and right now Sophia Leone and Cecilia aren't getting along one bit! The director is furious and both these fit babes have egos as big as their juicy asses. But when teasing turns into a pussy buffet, Sophia takes the opportunity to shove her tongue down Cecilia's wet ebony pussy! Craving a taste for herself, Cecilia slides herself over and spreads her long legs to give Cecilia all she wants. Sucking on each other's perky tits as they alternate between tongue fucking and pussy grinding, Cecilia and Sophia cum hard and the shoot is saved! Remember, teamwork makes the dream work!
After Cecilia Lion's boyfriend cheats on her, she goes bananas, sending him live video of her breaking and tearing up all his stuff! Only thing is, it isn't even his house! So when Maserati comes home and finds Cecilia there, she makes sure to get her money's worth for all the damages done - out of her tight little pussy! As Cecilia picks up everything piece by piece, Maserati is filling her MILF pussy with a thick pink dildo, but that was just the foreplay. Whipping out her huge natural tits, Maseratti bends her fit houseguest and starts pounding her pussy with the same sex toy! One by one, each ebony hotties take turn tongue fucking a mouth full of pussy. Looks like the punishment does fit the crime!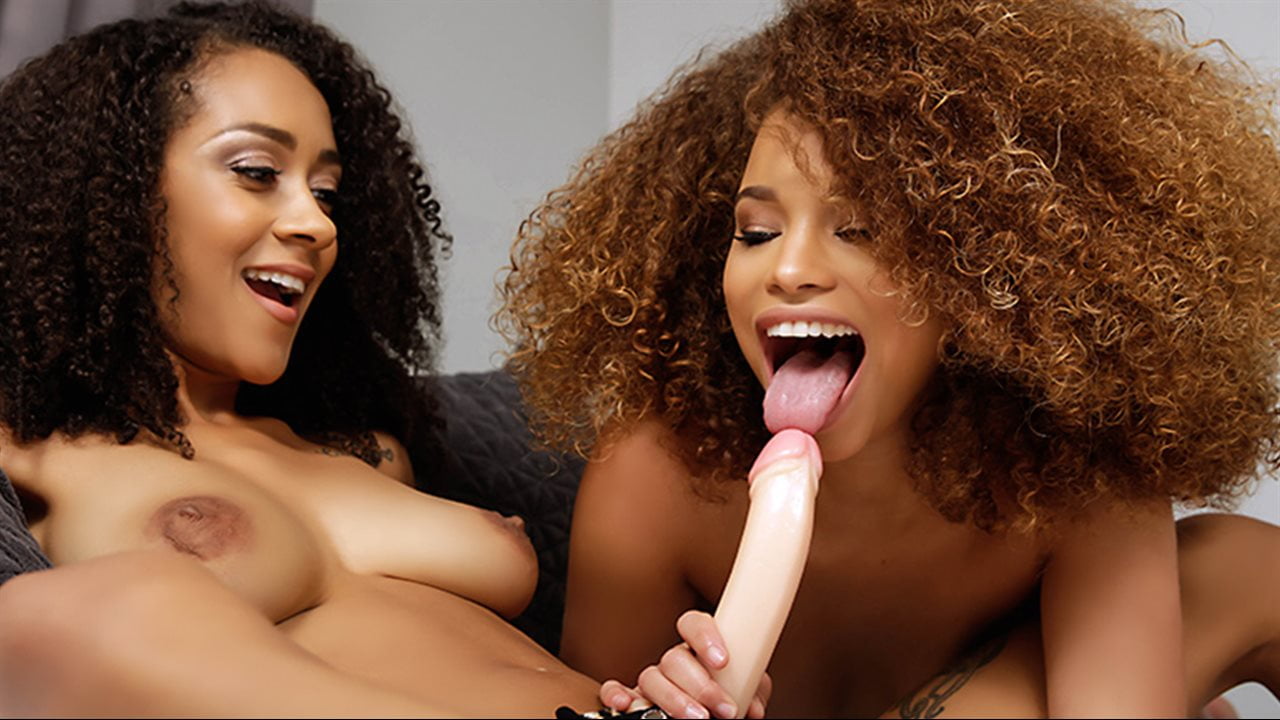 Ariana Aimes has been looking forward to going out and partying with her best girlfriend all week; she even got dressed to the nines hoping to pick up some cock in the club. But Cecilia Lion is feeling sore and tired and just doesn't really want to go, envisioning a relaxing night in with some TV, snacks and PJ's. Ariana tries to convince Cecilia by offering to give her a massage, hoping that a rubdown will loosen her up for some late-night fun. After all that work Cecilia is still not up to going out and Ariana starts to get bratty, desperate for cock. Cecilia gets frustrated and tames her bratty friend with a good hard fuck, showing her that pussy in hand is worth two cocks in the club.