When asked to imagine the woman of their dreams, a lot of men would think of a leggy blonde from Texas with big fake tits and a rockin' ass. A chick who maybe went to Catholic School. Enjoys a cumshot to the face. Can touch the tip of your dick to the back of her throat. Plays video games. And can monitor radar in the combat information centre to see if enemy ships are approaching your aircraft carrier. No? Well, consider that last one a bonus, because gorgeous American bombshell Astrid Star is all of the above, as well as a former Navy Operations Specialist! Stationed on a ship for four years before starting her sexy rise to porn superstardom, this bikini babe is here to whip Brazzers into shape like a sexy drill sergeant. And with her military-honed bod, you can rest easy knowing your one true dream is a smokin' hot reality!
Latest updates featuring Astrid Star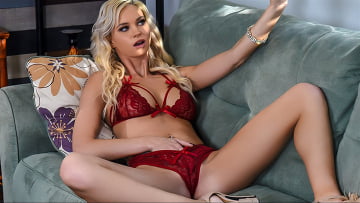 15th March
- Astrid comes home and finds a video camera set up in the living room. Thinking her husband left it out, she decides to put on a little show. Little do
es she know her husband's friend Johnny came over to film a video application for Brazzer's World. Johnny is delighted to find Astrid fingering herself in the living room and Astrid invites him to fuck her. Astrid soon realizes that Johnny isn't her husband, but she can't help but ride his cock a little longer. It's all fun and games until Astrid's husband gets home!
...Read More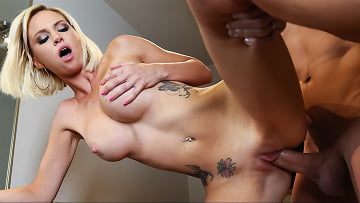 26th May
- Xander and his girlfriend are throwing a little dinner party for their friend Astrid to try and set her up with a new guy. Astrid's not impressed with
this dud, and as soon as he's gone the happy couple apologizes for the mismatch. Little does Xander's gf realize Astrid has already found the man of her dreams... and it's Xander.
...Read More