Though often described as "five feet of attitude in heels," UK glam MILF Rebecca Jane Smyth is Amazonian at almost six feet tall. Celebrated for her aggressively filthy on-screen persona and sultry 30s Hollywood look, this experienced seductress is a gorgeous package of shiny blonde curls, soft, thick curves, and downright sinfulness. Recruited at 18 years old for Britain's famous Page 3 topless feature, the voluptuous teen got an early taste of the nudie limelight and fell under its spell. But it wasn't until the busty stunner walked her big hair, bouncing double-D tits, and go-big-or-go-home attitude onto her first porn set in 2013 that the world witnessed her full sexual power, and rejoiced. Even though she's considered one of England's most talented smut stars, not to mention a living legend to her fans, with her incredible Brazzers debut, dominant Rebecca is ready to take on the world with her personal brand of sexy magic!
Latest updates featuring Rebecca Jane Smyth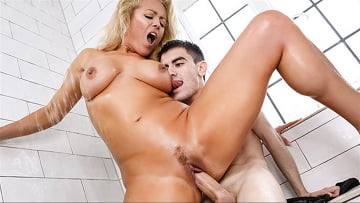 1st May
- Rebecca is getting undressed when she catches her stepson Jordi watching her. She throws Jordi into the shower to cool off and is surprised that the l
ittle guy has such a huge cock. Rebecca can't help but give it a taste!
...Read More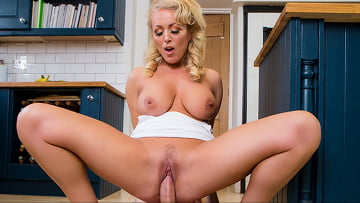 11th May
- Jordi is getting bored with playing video games. Especially when his best friend's mom keeping popping in on them. He can't help but take a peek at he
r amazing ass while she cleans. You can't really blame him for being distracted while Rebecca is teasing her bountiful boobs around him. After her son gets pissed off with playing online, Jordi decides to pay Rebecca a visit in the kitchen. He figures it'd be more fun to spank around her ass and titties than a bunch of pixelated monsters. It doesn't take long before Rebecca has swallowed down his cock and takes his 'noob tube' up her tight snatch. Seems like there's more to life than video games after all!
...Read More