Hiding beneath Scarlett Mae's shy exterior is an insatiable hottie, hungry for the fuck of her life. A far cry from being a hostess at a strip club in her teens, Scarlett says she fell in love with the idea of getting naked for the pleasure of others, and realized she could be making way more money than the stars on stage. This unleashed something within the brunette babe that took her from introvert bookworm to sex-driven exhibitionist! Between getting a facial at a football stadium and having rough car sex with her older driving instructor, Scarlett's sexual escapades shattered her once narrow expectations of sex. Now the bashful brunette says she's all about fucking big dicks, hooking up with chicks, and living her life as a testament to her sexuality! With a smile that shows off her luscious blowjob lips and eyes that broadcast her naughty needs from a mile away, this Ohio-born cutie's on the right path to porn stardom.
Latest updates featuring Scarlett Mae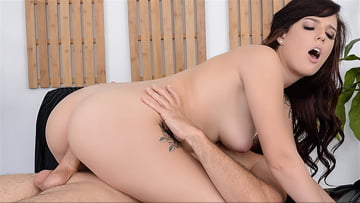 3rd December
- Every woman's got a secret, and overachieving good girl Scarlett is no exception. As she interviews for a position as Sean's personal assistant, we vi
ewers get a glimpse of what's really running through her mind. Spoiler alert: it's sexy (and slutty) as hell!
...Read More