With long ruby-red hair, smooth sun-kissed skin, and the most piercing green eyes in porn, Shona River is a spectrum of seduction. But her arresting features aren't the only things that make her so colorful. Born and raised in Budapest, Hungary, Shona has always been a kaleidoscope of talent, outshining everyone in athletic ability, intelligence, and poise. It's the confidence that came with her successes at school that helped her to succeed in mainstream modeling after graduation. It also helped her develop a wicked sense of humor with as many boundaries as her sex life (which is to say, none). She continues to push herself past her limits to this day; and whether she's making gains at the gym, crushing her new obsession of pole dancing, or giving the best blowjob in the business, Shona River will pass your greatest expectations... with flying colors.
Latest updates featuring Shona River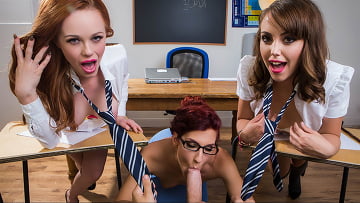 1st September
- Ella and Zoe are so excited a guy is joining their class! Their teacher Shona is excited too, and has the girls practice kissing and licking to make s
ure the new student is properly welcomed. Jordi's first day at ZZ University is about to go down in history!
...Read More