If you're into alt-girls with big tits, you'd better join the Jay Gang. Stacy Jay has been grinding wood her entire life, skateboarding in her younger days and now riding cocks as one of the hottest pornstars in the biz. Growing up, Stacy was a shy nerd who only hung with other skateboarders, and started longing for more companionship than a quarter pipe. She took a break from tailslides to shake her tailfeather in the stripclub and, as a dancer, Stacy experienced sexual liberation. Now that she has a legion of loyal fans she calls the Jay Gang, she hasn't forgotten her skatepark roots even when she's bouncing her big ass on a thick rod. Stacy is sexy, she's fun, and she's cool as fuck: find out why she's called "your favorite pornstar" by checking out one of her scenes at Brazzers right now.
Latest updates featuring Stacy Jay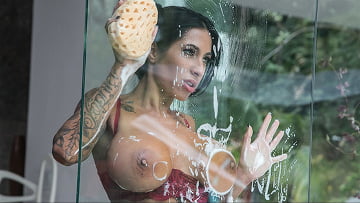 23rd August
- Markus' wife decided that they needed a housekeeper to help tidy up around the house. Markus isn't totally sure why this is necessary, but changes his
mind when he sees Stacy's unique method of cleaning. Turns out she likes to strip down and coat up her luscious tits with soap while scrubbing. Markus can't take the teasing anymore, and decides to dip his dong into Stacy's tight pussy. Markus decides to go for a little multitasking, soaping up Stacy and his entire house in the midst of their fuckfest.
...Read More